please press buttons above for more information
ABSENCE OF THE TEA MASTER at Ishikawa Nishida Kitaro Museum of Philosophy, Japan     西田幾多郎記念哲学館 ホアイエ
Ishikawa NISHIDA KITARO Museum of Philosophy
1,Uchihikakui ,Kahoku-cityIshikawa,Japan
http://www.nishidatetsugakukan.org/
2013-02 –20 (13:00-16:00
)2013-02–21(13:00-14:00)
This '0′-event at Nishida Kitaro Museum of Philosophy is part of a research project concerning the value of traditions in contemporary culture. It is a collaboration between Kanazawa based curator and artist Akane Nakamori and Amsterdam based artist Margret Wibmer.
Negotiating differences in Eastern and Western concepts of space, time and social relations drove the artistic process. This reinterpretation of  the traditional Japanese tea ceremony, invites new thoughts about the value of ancient rituals and the relations between political power and the body.
Absence of the teamaster was produced as a life performance and a video at Ishikawa Nishida Kitaro Museum of Philosophy in Japan in 2013. 'This stunning museum exhibits the achievements of Ishikawa-born Zen-Buddhist philosopher Kitaro Nishida. Internationally acclaimed architect Tadao Ando designed the building, which is composed of concrete with glass windows and a terraced garden. The design of the building is meant to inspire thought with a purposefully complicated layout that invites losing one's way thereby forcing contemplation on even basic decisions such as "Which way shall I go next?" The museum's design is also known for its harmonization with the natural world surrounding it.' [from the art of travel] 'absence of the teamster' was performed in the exhibition space.
In 'absence of the teamaster' the teamaster who plays the central role in the tea ceremony was replaced by contemporary dancer Kiyomi Yamashita. This radical change of setting was further supported by an outer worldly composition of Minowa Norihiro who not only designed a soundscape but also a sound system for this particular architecture.
Choreography, sound, design of the garments and other props were  inspired by the architectural design of Tadao Ando. The performance took place in the central space which is meant to be empty and is dedicated to Nishida Kitaro's thoughts on nothingness.
All invited participants during the performance were experts in the field of contemporary art and/or preservation of cultural heritage, including Tokio based tea master Fuyuko Kobori. Their feedback was of great value for the further development of successive performances in Europe.
The garments were designed and hand-crafted by Margret Wibmer in collaboration with Kanazawa Bunka Fashion College's students and tutors. The fabrics were provided by the Japanese textile company Komatsu Seiren Co., Ltd.Nishida Kitaro Museum of Philosophy, Japan
image above: participants rehearsal; photography Margret Wibmer 
We invite artists and experts from other fields to join our projects and to contribute either as participants or advisors. Their feedback and contribution is essential for the development of our projects, which not only reflect Japanese culture but also historic relations between the East and the West.
Concept: Akane Nakamori  [Suisei-art] and Margret Wibmer  [Mbassy Unlimited]
Dancer: Kiyomi Yamashita
Soundcomposition: Norihito Minowa
Sound technician: Norihiro Mori
Costumes and photography: Margret Wibmer
Glass bowl: Masaki Kusada
Trays: Takuma Pottery
Original sweets: Yoshihashi, Kanazawa
Teacoordinator: Yoriko Nakagawa
video: Shoko Takimoto and Kenichi Tani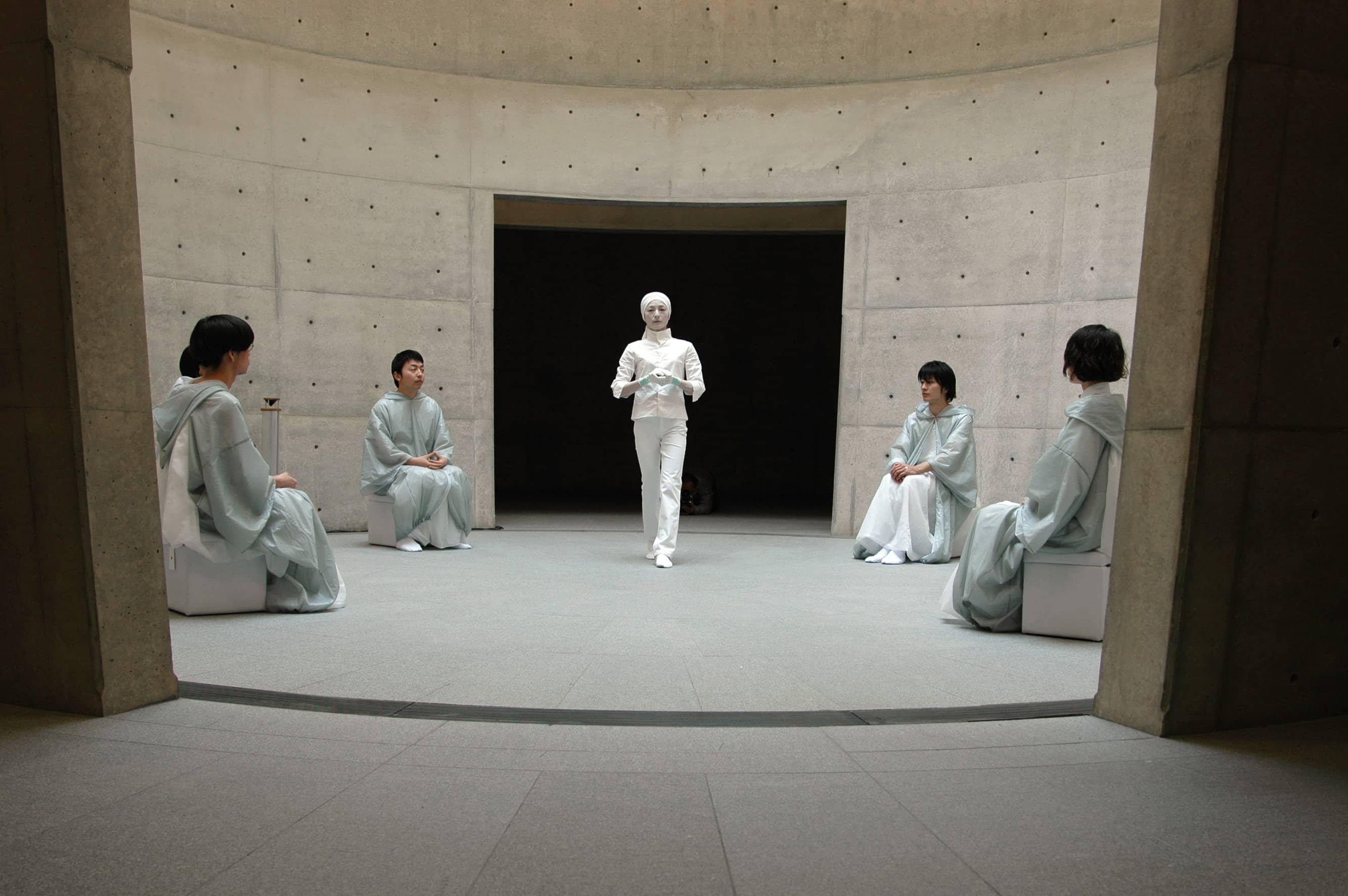 participants rehearsal:
井上 大輔 Daisuke Inoue
池尻 藍 Ai Ikejiri
山本 江梨 Eri Yamamoto
山内 祥太 Syota Yamamoto
土方 大 Dai Hijikata
田 聡美 Satomi Den
Supported by:
Komatsu Seiren CO.,Ltd.
KANAZAWA BUNKA FASHION COLLEGE:
Hisae Hashimoto
(tutor)Emi Fukaya
(tutor) Kazuhiro Nomura
(student) , Yukiko Nishimura
(student) , Haruka Hori
(student) , Miyuu Yoshimura (student)
Mondriaan Foundation, The Netherlands
The Austrian Federal Ministry for the Education, the Art and Culture
Amt der Tiroler Landesregierung, Innsbruck (Austria)
The making of
The costumes were designed by Margret Wibmer and fabricated in collaboration with Kanazawa Bunka Fashion College students and tutors. Hisae Hashimoto 
(tutor), Emi Fukaya 
(tutor), Kazuhiro Nomura 
(student), Yukiko Nishimura 
(student), Haruka Hori
(student), Miyuu Yoshimura (student).
The fabrics were sponsored by Komatsu Seiren.inc., which is based in Hokuriku region in Japan.
The making of the garments at Kanazawa Bunka Fashion College. From left to right: Akane Nakamori, Margret Wibmer and students.
The making of the garments at with tutors and students at Kanazawa Bunka Fashion College.
Emi Fukaya 
(tutor)
These extremely leight weight fabrics require delicate handling
participants during rehearsal
Akane Nakamori and Kiyomi Yamashita – preparing hte choreography
first day of filming
Dancer Kiyomi Yamashita in the dressingroom
warming up
Kiyomi with tray for sweets
Minowa Norihito (composer) and Norihiro Mori (sound engineer) during sound check