TIME OUT at Nakamura Memorial Museum in Kanazawa
August 29th 2015
Concept: Margret Wibmer
Tea ceremony master: Fuyuko Kobori
Direction: Akane Nakamori
Sweets: Tsuki Ten Shin
Special thanks to:
Satomi Den
Jyuri Hosokawa
Yuko Sato
Yuriko Yanai
Chihiro Sakamoto
Kanazawa Art Organisation
Ayumi Kanaya
Kanazawa Art Gummi
TIME OUT is a contextual performance that invites new ways of thinking about the body in relation to space, history  and time.
This performance was taking place during Kanazawa Night Museum at a museum dedicated to the history and tradition of the Japanese tea ceremony. The performance was taking place in the two tea houses situated in the museum garden. The TIME OUT concept was adapted to combine with a Japanese tea ceremony. Tea ceremony master Fuyuko Kobori developed a tea ceremony based on the principle of time. Participation was by reservation only. The performance was precisely structured according to the architecture and the  rituals around the tea ceremony. Accurate timing was crucial in this project.
For the performance special garments were developed, worn by project assistants as well as participants,influencing hierarchical structures and changing the prevailing dress code.
teahouse 1: reception area
preparing the TIME OUT room which was located in tea house 1

Fuyuko Kobori preparing the tea room / tea house 2
slippers for the walk through the garden from teahouse 1 to teahouse 2
path in tea garden project

project assistant getting ready for visitors
First visitors arriving
Akane Nakamori welcomes visitors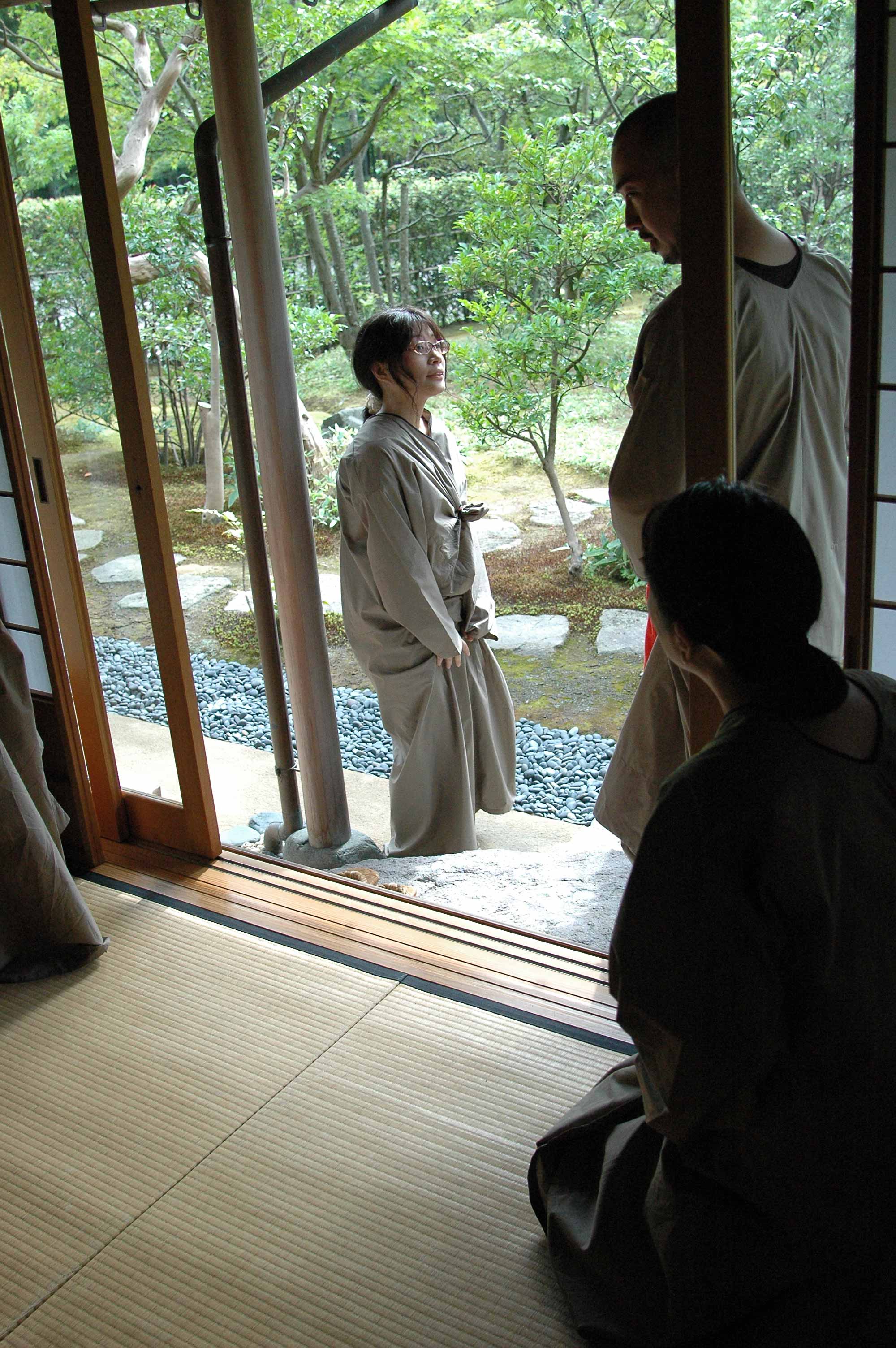 project assistants during rehersal
project assistants during rehersal: in the garden, waiting to enter teahouse 2, getting ready for the tea ceremony.

rehearsal / project assistants
rehearsal / project assistants in tearoom
Fuyuko Kobori during rehearsal
images above: Fuyuko Kobori preparing tea ceremony – foto's taken during rehearsal. no photo's were taken during the actual ceremony due to privacy reasons.
rehersal: project assistant during TIME OUT in teaouse 1.
rehersal: project assistant during TIME OUT in teaouse 1.
a group of participants after dressing

a group of participants after TIME OUT

About Akane Nakamori:
Akane Nakamori is an independent curator based in Kanazawa who has curated many events in public space. She is the founder of Suisei-Art, an independent non for- profit art organization that introduces the works of contemporary Asian and international artists through exhibitions, lectures and collaborative projects. Akane Nakamori introduced my work in Kanazawa in 2010 when she curated 'the girl and her object', a solo exhibition of my work at Art Gummi Gallery in Kanazawa. All the works were produced on location and included an installation with a live performance of contemporary dancer Kiyomi Yamashita and a live radio emission including interviews with Kanazawa residents. In 2013 we developed the concept for the performance and video 'absence of the teamaster' in a joint effort. The performance took place at Nishida Kitaro Museum of Philosophy in Japan with two consecutive performances at Weltkunstzimmer in Düsseldorf and The Conservatorium Hotel in Amsterdam. Tea ceremony master Fuyuko Kobori was involved in the performances in Europe.
Suisei-Art collaborates with Japanese art historian Hitoshi Mori /Sankibunko and 21st Century Museum of Contemporary Art, Kanazawa. Sankibunko is based in Hitoshi Mori's private library Sankibunko which houses a collection of 20.000 books on Japanese visual arts, design and art history. Prof. Hitoshi Mori is an art historien and director of Sori Yanagi Design Memorial. Suisei-Art together with Sankibunko also provides accomodation facilities for artists. (AIR) The 21st Century Museum of Contemporary Art, Kanazawa was build by SAANA architects and opened in 2004 with founding artistic director Yuko Hasegawa. Its collection focuses on works produced since 1980 that "propose new values" .
Fujuko Kobori (*Tokyo, 1985) has learned one of the most important Japanese traditions, the tea ceremony called Chanoyu since the age of 6, under her father, the 16th generation grand tea master and head of the Kobori-Enshu school. Fuyuko believes that the way to invigorate contemporary Tea Ceremony is through traditional study while embracing new ideas. She is well known in and outside of Japan for developing contemporary forms of the traditional tea ceremony while keeping the kata, the underlying pattern of movements. Kanazawa Nakamura Memorial Museum is dedicated to the tradition of the Japanese tea ceremony, a philosophical practice associated with Zen.