Writing letters is actually an intercourse with ghosts and by no means just with the ghost of the addressee but also with one's own ghost, which secretly evolves inside the letter one is writing.

Franz Kafka
Salon d'Amour explores love as a transformative power in a polarised world. This particiative performance engages members of the public through wearable props and a carefully curated collection of poems, love letters and prose – provocative, confronting and poetic. Sitting in pairs readers are free to chose any of the texts, reading out loud to their masked counter part. The masks, developed by Wibmer for 'Salon d'Amour' provide a transitional space filled with ambiguity, mystery and beauty. The voices of the readers are carried by the soundscape developed for this project by composer Robert Poss, the roles are interchangeable. The magical atmosphere of this unusual setting invites an unforgettable experience.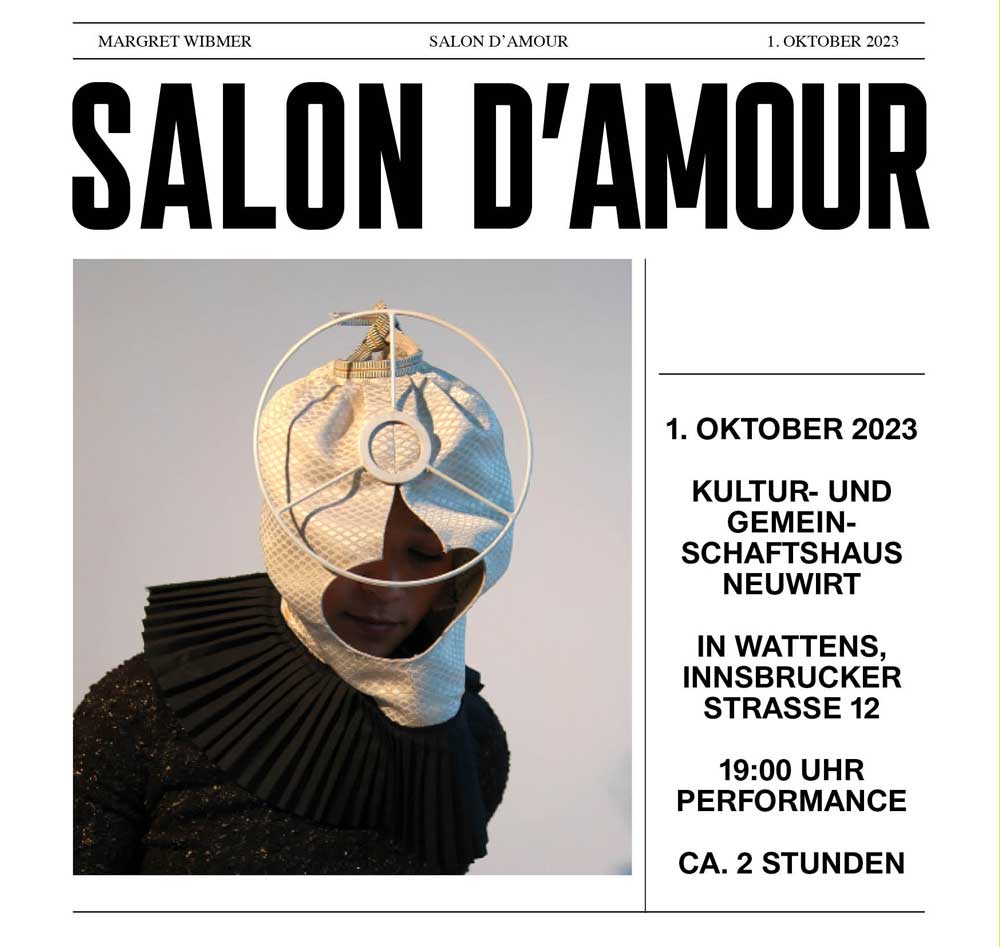 Performance at Kultur- und Gemeinschaftshaus in Wattens, Austria. // Concept, art direction, photography and masks: Margret Wibmer // Soundscape: Robert Poss // Videoproduction: Open Space Innsbruck // Lighting: Daniel Kolb // Translations: Astrid Tautscher // Graphic design: PEACH_Vienna // Readers: Robert Egger, Judith Erler + public // Assistants: Dorothea Hartmann, Lea Schneider, Magdalena Schweiger, Lydia Steiner. // Produced by Kunstraum Wattenbach (Curatorial team: Markus Strieder and Alexander Erler). This project is generously supported by Gemeinde Wattens and Land Tirol.
Love, that most loaded word, is the subject of artist Margret Wibmer's unapologetically intimate work, Salon d'amour. Without screens or networks, recordings or photographs, love is expressed through language, in the present moment, from one person to another.
From the first ceremonious moments of this performance, visitors become attuned to the tensions of love, the flirtatious hiding and teasing.No longer a traditional theater space, the stage area has been reinvented as a semi-private chamber where people can comfortably sit in pairs. Love letters in hand, participants read out loud to each other. While they can choose to be readers, listeners, or observers, only listeners have the privilege of wearing one of the unique masks designed for Salon d'amour.
Crossing generations and languages, these expressions (or confessions) of love by globally recognized artists, poets, composers, and others, reanimate the words on the page: breathing life into letters from the past. Intermittent live readings from two actors give focus to the act of reading and listening, while a soundscape composed by Robert Poss supports the warm atmosphere of this unusual setting. 
From 'A Decisive Moment: Margret Wibmer Salon d'amour,' an essay by Marianna Maruyama
---
Salon d'amour, a participatory performance. Natlab, Eindhoven, 2016.
Concept, choreography, video editing, masks: Margret Wibmer / Soundscape: Robert Poss / Video and photography: Florian Krepcik / Actors: Megan M. Garr, Mario van Brakel, Marianna Maruyama, Jaïr Tchong and participating public.
Special thanks to the students from Design Academy Eindhoven (Maria Caye, Pranav Kochatta, Giulia Pompilij, Martina Huynh, Thea Christy-Parker, Virginia Vivaldi) and volunteers.
---