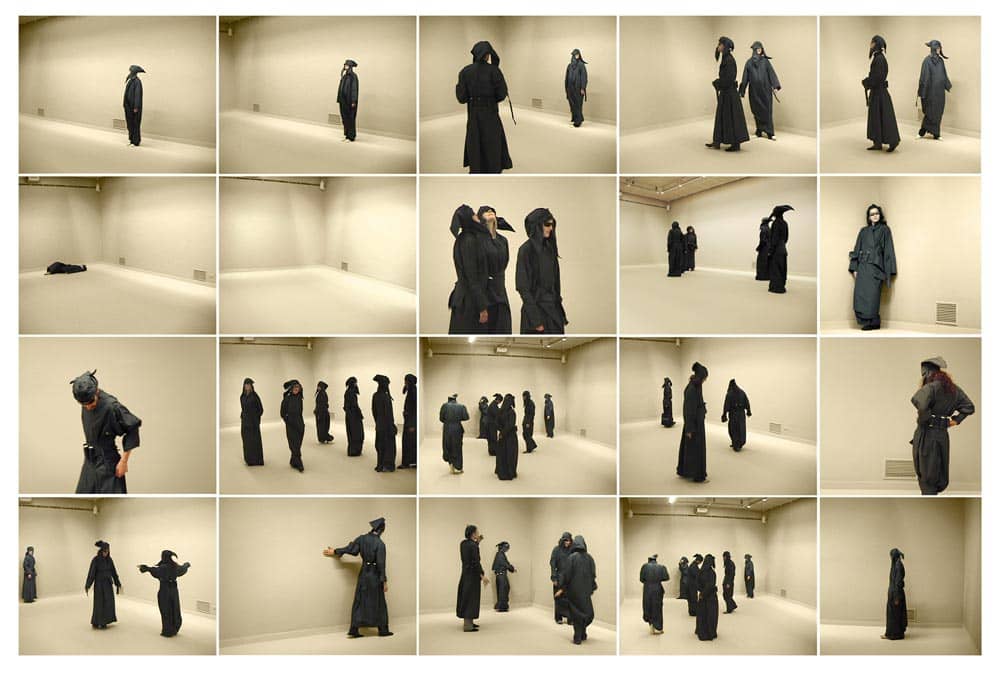 Barefoot I step through a kind of gate lock into the back part of the Kunstpavillon. I slip into a dark coat, its seam touching the ground, fasten it around my waist with a belt. Never before have I worn a kimono, but this belt reminds me of an obi. Yet at the same time it could also be an ammunition belt or a holster. The sleeves I tuck up with the help of a ribbon that is being fixated with Velcro fasteners almost as if my blood pressure were being taken, this goes through my mind. Next I put on a piece of headgear that can be worn in different ways, and I decide to tie it at the back like a headscarf. My outfit is rounded off with a pair of sunglasses. I am anonymous.
From the essay 'The Holding' by Ingeborg Erhart
---
Concept and art direction: Margret Wibmer / Production: in collaboration with Kunstpavillon Innsbruck / Exhibition curator: Ingeborg Erhart, Kunstpavillon Innsbruck. 'The Holding' was part of the exhibition 'Entering a strange field'.
Sound engineering: Robert van Heumen / Clothing design, styling and photography: Margret Wibmer / Model dress instructions: Malaya Wibmer / Performers: the public / Light engenering on location: Markus Dziemballa / Construction on location: Tech team Kunstpavillon Innsbruck (Klaus Bartl, Franz Brunner, Günther Gstrein, Christian Sanders) / Soundsamples: Sybille Brunner and Georg Laich, ORF Tirol (Austrian public broadcaster) / Video documentation: Robert van Heumen / Video editing: Jozee Brouwer
Special thanks to STEIM institute, halotech lichtfabrik, ORF tirol, Ina pronk/Loods 6, Robert Poss, Suzanne Morianz, Lou Etoundi Menanga, Saskia Monshouwer.
---