Studio Margret Wibmer offers workshops related to Wibmer's own practice, disseminating the knowledge emerging during experimentation and the artistic process. Those shared learning experiences for professionals as well as amateurs vary in format and duration, from a few hours to several weeks. Workshops are produced in collaboration with individuals and institutions such as art colleges, art spaces and galleries as well as private organization and commercial companies. Some workshops travel to various locations and are adapted to the specific context. Get an impression with the workshops described below and don't hesitate to contact us with any question using the contact form.
---
Breathe – dreams may follow
Workshop for dance, fine art and fashion students resulting in a live theater performance
In this workshop, the dancers explore space, and the vital materiality of the human body and textiles through improvisation and meditative movement from Asian Dance techniques. The design of the garment is based on a concept Margret Wibmer has developed over a number of years under the conceptual umbrella of Infinite Play. This time Wibmer shared the projects underlying artistic research with a select group of NAFA Dance, Fashion and Fine Art students and invited them to explore her work through their own process of making, performing and reflection, resulting in the production of a staged performance.
---
Industry project – Nanyang Academy of Fine Arts Singapore / January 2020 / Made possible with generous support by the Austrian Embassy Singapore and Lenzing AG.
---
The click of the scissors
Workshop for students Master of Fashion Design students, RMIT University Melbourne
The workshop investigates the relationship between body and garment through media and performance. Participating students explored alternative methods of constructing garments and accessories, translating and interpreting images beyond appropriation, creating narratives around the body, wearable shapes and textures that invite the imagination.
"The cut of the scissor is like the click of a camera or the whirl of a movie camera, like a stroke of the pencil or paintbrush: all these acts decisively isolate a form or representation, marking a surface that generates a reality. The cut puts an end to the traditional representation of the image, dissolving it and then restoring it as a testimony to the artist's vision and understanding… [i]ts use unites artists, photographers, designers and tailors …"

Germano Celant, To Cut is to Think (Art/Fashion – 1996)
---
RMIT University Melbourne. Course director: Dr. Jessica Bugg / Participants: Chris Ran Lin, Annette Martin, Vladislav Kanevsky, Blake Barns and Toshelen Cherrie.
---
Reconstruction
Participative workshop
The walls of the exhibition space are covered in large digital prints depicting fragments from Margret Wibmer's photographic series Reconstruction, arranged in serial order. The public is invited to cut and create their own compositions. The workshop which invites participants from all walks of life, amateurs as well as professionals, reflects notions of authorship and appropriation.
---
Styleconception, Innsbruck / During Premierentage Innsbruck 6 – 8 november 2014
---
Transition
Participative workshop
Visual artist Margret Wibmer and curator and artist Akane Naka-Mori developed a joint project based on researching the power of the traditional Japanese tea ceremony. After the first event, a performance and video production at Nishida Kitaro Museum of Philosophy in Kanazawa , they developed a tailor-made event for senior leaders, taking place at the Conservatorium Hotel in Amsterdam. Participants were invited to experience materials, objects, sound and movement through carefully planned actions, intended to prolong the process of perception and sharpen the senses. This exclusive event was conducted by tea ceremony master Fuyuko Kobori from Tokyo, a 17th generation member of the famous Kobori Enshue family. Contemporary composer Minowa Norihito wrote a soundscape in six parts for this event, based on the theme of a gallant young warrior and inspired by the Japanese legend of Urushima Taro. According to that story, our tea ceremony master Fuyuko Kobori represents the princess of the floating land. Minowa used the voice of a woman and the sound of water for his compositions. The sound is meant to refresh the senses and to restart anew.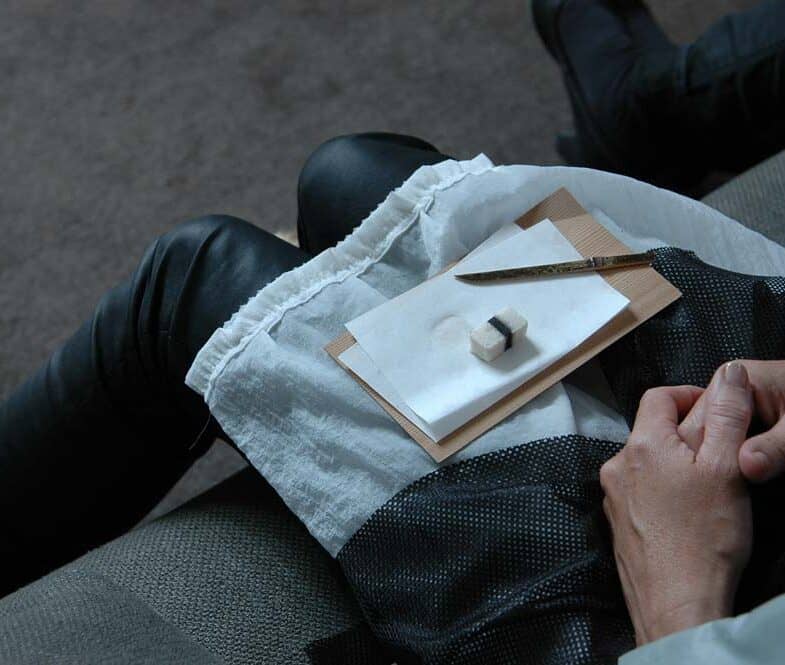 ---
Transition / Conservatorium Hotel, Amsterdam, 2013
Concept and production: Akane Naka-Mori and Margret Wibmer / Tea ceremony master: Fuyuko Kobori / Dance: Kiyomi Yamashita / Soundscape: Minowo Norihito / Kimono design: Mamechiyo / Design garments for participants: Margret Wibmer
Organiser: Isrid van Geuns. 'Transition' was supported by Fumuroya Company, Yoshidaya Syuzouten Co.,Ltd., Sakakobo Taro and The Conservatorium Hotel, Amsterdam.
---